"The Après-Garde Ensemble invites all composers to submit contemporary classical holiday music to be performed in December. Pieces should include any degree of improvisation and alternative notation (including graphic and/or prose elements), and they should be inspired by the holiday/winter season (which isn't to say necessarily Christmas). Submissions should be for open instrumentation, meaning any combination of 2-6 instruments. Pieces may also include parts for competent but not professional voice (baritone)."
In an attempt to meet the requirements of this performance opportunity while exerting the least possible creative energy, I decided to appropriate the chord progression of The Christmas Song by Bob Wells and Mel Tormé (secure in the knowledge that chord progressions are not protected by copyright), superimpose a melody of my feeble invention, and steal every word of the lyrics, but rearrange their order. The result is an insult to the American Songbook, a travesty which, in spite of its elemental lack of originality, is original. How's that for your late-capitalist postmodern paradox?
I'm pretty sure that the Après-Garde Ensemble never performed the song, titled Holiday in Manhattan, but you can listen to my performance, complete with simulated dive bar ambience, here: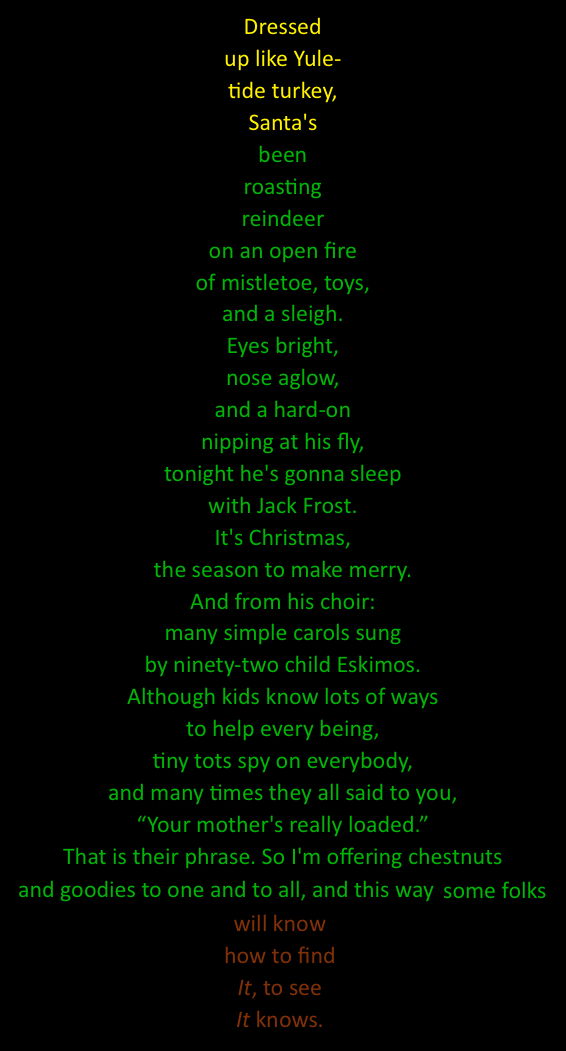 You can revisit the original lyrics to
The Christmas Song
(and judge for yourself whether my version is an improvement) by clicking
here
.